Publishing Services
byDesign Media is a one-stop, custom-publisher and print broker.
Everything you need to take your book from manuscript to market is right here.
Custom or self-publishing is beginning to take its place in the new publishing paradigm as a functional way of getting one's book to the marketplace.

Some authors who may have the luxury of choosing whether to self-publish or use the services of a traditional royalty publisher, choose the custom or self-publishing route because they have more control over the book. These are generally people with established ministries or businesses where they have a guaranteed channel for distribution or reaching their market.

Once in print, the message and the marketing (both the responsibility of the author) will determine how far reaching the impact on the world will be.

While we can put your book on Amazon.com and get you into digital, online catalogues, you are the best salesman your book will ever have!
You Can Fulfil Your Dream of Being an Author!
Let Us Help You Release Your Inner Book
While traditional book publishers rarely look at an unsolicited manuscript by an unknown author, many of these works are worthy of publication and need to find their way to readers. With the advent of print-on-demand technology, e-books and recognition of the benefits of self-publishing, the world of publishing is changing at a great rate.
Book Publishing Services
Editing

Printing

Scanning

Proofreading

Co-authoring

Cover design

Print management
Photo manipulation

Bar code assignments

Layout and interior design

Manuscript consultation

Print-on-demand publishing

ISBN assignment & CIP info

Inclusion in the National Library
Editing

Printing

Scanning

Proofreading

Co-authoring

Cover design

Print management

Photo manipulation

Bar code assignments

Layout and interior design

Manuscript consultation

Print-on-demand publishing

ISBN assignment & CIP info

Inclusion in the National Library
If you would like to self-publish your own book, byDesign Media is a one-stop shop!
Call for a no-obligation consultation regarding how to submit your story or manuscript.

Because 80% of books are published on the strength of design presentation, byDesign Media strives to ensure that its cover design is second to none. Cover design is a highly skilled art.

We will take your book through all the steps of publishing; including editing, layout and design – and deliver the files to the printer.

The pre-press costs of preparing your manuscript (before it goes to the printer) are determined according to the extent of editing needed, the complexity of design required and the number of photos you wish to include.

If you are looking for 700 copies or more, we'll probably use a traditional offset printer. However, if you want only one or two copies – or perhaps a few hundred, we'll use a digital print-on-demand printer to keep your costs way down.

You'll receive your books within about a month after you have given us the final print approval.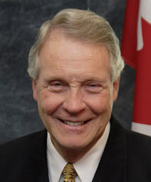 "Diane's first book, My Father's Child, continues to be the 'classic' which is 'must' reading for every pastor, pastor's child, and every member who wants to know how to bless their pastor and his family."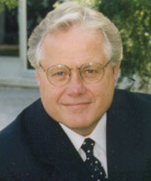 "Diane and I have similar interests, one of which is writing. Over the years I've been impressed by the quality of her writing, the inventiveness of her approach and the ability to keep fresh and alive in the doing of it. Diane is so resourceful, able to help others in the crafting of their message and the creating of its delivery. She is a Canadian treasure."
Background info on byDesign Media Publishing services:
Publishing books was never on Diane's radar in terms of career planning. Her initial foray into the world of books was as much a surprise to her as to anyone.
Following the remarkable success of her first two books (see below), both published by traditional royalty publishers, people began to approach Diane with questions about getting their own books published. It became obvious to her that people needed a way to get their messages to the market without taking traditional publishing routes. Because of the near impossibility for an unknown author to get his or her book picked up by a traditional publisher in Canada, the need for increased options for high-quality self-publishing in Canada was obvious. Diane began custom publishing through her company, Praise Publishing, in 1985, and registered byDesign Media in 2007. She has since produced several award-winning books for clients.
However, the journey was not easy. In the early days, self-publishing (now called custom or personal publishing) was routinely dismissed as "vanity publishing." The term irked Diane because she appreciated people who wanted to get important messages to the market and knew their motivations had nothing to do with vanity. She was conscious of the barbs directed at her efforts by people who were quick with warnings about charlatans who were ready to pounce on the wallets of vulnerable authors-in-waiting. The idea of being classed with charlatans was very difficult for her because of her sincere desire to facilitate access to the market for people who might never have access to the traditional routes of royalty publishing.
Happily, times began to change and self-publishing began to find its feet in the arena of respectability. Big name authors began to see the benefits of having control over their work and the world of publishing began to change. With the advent of print-on-demand technology and e-books, even the big publishing houses began to develop self-publishing arms, because that's the direction publishing was going, like it or not.
Now, many authors are happy to go the print-on-demand route, eliminating the need for purchasing boxes and boxes of books with a traditional offset-press print-run. Others choose to go both routes. While the POD books Diane produces are available internationally in the Ingram catalog, when a book requires bookstore distribution she occasionally co-publishes with Castle Quay Books under its imprint. That was the case with TWG's first-place award-winning book, Certainty – A Place to Stand, by Dr. Grant Richison.
Diane's operating banner is, "From Manuscript to Market." She offers the full range of services, including manuscript evaluation, editing, layout & design, cover design, ISBN imposition, national cataloging, photo manipulations, the development of sell-sheets and print management – everything – right to the delivery of the book. She takes great personal interest in every book she produces, nursing each one along every stage until it is finally ready for public consumption.
Diane has a rich history of personal successes in the publishing realm. She wrote her first book, My Father's Child, (a Canadian bestseller) in 1980. An autobiographical / research study on ministers and their families, it was immediately picked up for publishing by Mainroads, then a subsidiary of Crossroads Christian Communications, and sold 12,000 copies in Canada.
Encouraged to share more insight with her readers, she wrote Growing in the Spirit in 1982 which was published by the royalty arm of G.R. Welch. Since then, Diane has gone on to write over 20 other books and booklets, some of which she has co-authored.
In 2004, Diane was honored with her first national writing award, placing first in The Word Guild Awards for her extensive history of The Peoples Church, Into All the World.
In 2009, her legacy journal, To My Family…My Life, published by Castle Quay, was featured on 100 Huntley Street as the ministry offer for the month of June. The Journal is now available on CD for anyone wishing to complete it on the computer. In 2009, she wrote the Predator-Proof Your Family series of eight booklets. In September. 2012, Predators Live Among Us – Protect Your Family From Child Sexual Abuse was published and launched by Castle Quay Books.
Awards
The following are kind words from associates or clients referring to our award-winning work: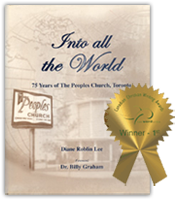 Into All the World – 75 Years of the Peoples Church
by Diane Roblin-Lee
"The Peoples Church book is an amazing work. I'm in awe of your determination to put God's gifts to you to full impact."
– David Mainse | Founder of Crossroads Christian Communications and first host of 100 Huntley Street
The Way They Should Go
– by Kirsten Femsen
"We thought the book layout (The Way They Should Go) was fabulous. You are an amazing person that God has blessed with much talent. We feel honored to be working with you."
– Lee Anne Femson | Mother of Kirsten Femson, author of The Way They Should Go.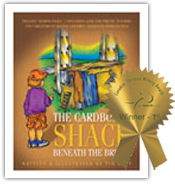 The Cardboard Shack Beneath the Bridge
-by Tim Huff
"Thanks for your great work, Diane!"  – Larry Willard, Owner of Castle Quay and Bayridge Books.
(Note: Diane designed the interior of The Cardboard Shack Beneath the Bridge, published by Castle Quay Books, which won first place in the 2007 The Word Guild Awards.)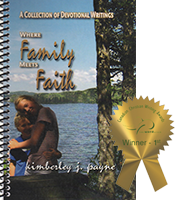 Where Family Meets Faith
-by Kimberley Payne
"Diane, you have a real gift! I absolutely love it! …Thanks for turning my dream into reality! I love the work you've done."
– Kimberley Payne, Author, Speaker.
(Note: Diane designed and custom-published Where Family Meets Faith, published by byDesign Media, which won an Award of Merit in the 2008 The Word Guild Awards.)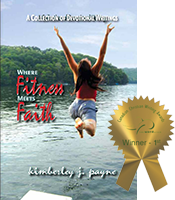 Where Fitness Meets Faith
-by Kimberley Payne
"Your work is professional and you took into account all I had said, but put a gorgeous spin on it!"
– Kimberley Payne, Author, Speaker.
(Note: Diane designed and custom-published Where Fitness Meets Faith, published by byDesign Media, which won an Award of Merit in the 2008 The Word Guild Awards.)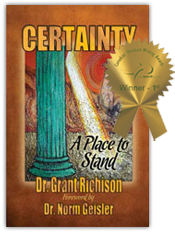 Certainty – A Place to Stand
-by Dr. Grant Richison
"Diane has a very creative side that produced a beautiful book. I recommend Diane and ByDesign Media"
– Dr. Grant Richison, Author
(Note: Diane designed and published Certainty– A Place to Stand in conjunction with CQ Books which provided distribution to stores. It won the First Place Award in the 2011 The Word Guild Awards)