What's the legacy of wisdom of your grandparents? Will your grandkids know yours? Write an "ethical will."
While a property will deals with one's material goods and cash, an ethical will deals with the truly important things developed and gathered through one's life – wisdom, faith, values and experiences. By writing these down for the benefit of one's family and oncoming generations, one's essence is not lost. Dusty photos take on new life and meaning when accompanied by one's written legacy of values or "ethical will." It's made simple with My Life Legacy journals!
What could be better to give to one's family for Christmas than the gift of one's wisdom, insights and experience? It would be a treasure passed down for generations!
These are critical years. We're losing one of our richest, most meaningful natural resources – the wisdom of our mothers, fathers and grandparents who fought in the war, dug deeply into life through the depression years and experienced the transition from horse and buggy days to our wired world.
The wisdom of our elders are the wells from which we draw understanding, knowledge and warnings against repeating the evil elements of history. Unless their conclusions on life are recorded, they will be lost.
It seems odd that people die at the very point in time when they have learned the most. Unless there is a written record of who they were in the various aspects of their lives, they are often forgotten soon after the last shovel of dirt is thrown on their caskets.
With those thoughts in mind, I created legacy journals; tools through which people could have a voice of wisdom into the lives of their descendants, vehicles through which their essence could be remembered.
MY LIFE LEGACY JOURNALS are designed to feature not only your family history, but also include space for sharing thoughts on over 40 topics. Here you can bestow a blessing on your family, share and preserve family recipes, give special messages to friends and family members and share favorite family photos.
These 150 page legacy workbooks with ethical will resources will get you organized and give you direction for recording your reflections, values, experiences and family history for future generations. They come in two editions, both available as spiral-bound, soft-cover workbooks, digital downloads or CDs to complete right on your computer.
Edition #1 – To My Family… My Life – features corresponding Scripture verses with each section
Edition #2 – To My Family… My Life Legacy – Generic edition with no Scripture verses
My hope is that volunteers and family members will take the journals into nursing homes and retirement homes and help their friends and loved ones to record the wisdom and experiences from their hearts to the pages of the Journals while there is still time.
For those looking for a mentoring tool, the Journals make wonderful vehicles for communication between the generations. I hope many young teenagers will spend time with seniors recording their time-tested wisdom.

Life Legacy Journals are published by Castle Quay Books and are available by ordering through stores or right here online in my STORE.
A great idea for a special gift of the heart for any occasion — a wonderful retirement gift.
For bulk orders and customized editions, please click on the following links:
Customized orders
Bulk orders
My Life Legacy (Ethical Will) Workshops & Workbooks Brochure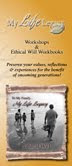 "My Legacy Links" Brochure

The 2 Part Series of the Legacy Journal interview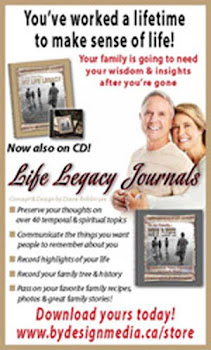 My Life Legacy Journals organize your:
Life legacy
Ethical Will resources
Full life story or that of a loved one
Experiences, insight and wisdom regarding over forty major life topics
Family tree, family history
The ten most important things you want your family to know about you
Family stories
Favorite recipes
Thoughts and values regarding major lifestyle and spiritual topics
For customized or bulk orders for your group, please get in contact with Diane.
Diane Roblin-Lee
Ontario, Canada
As a child, I loved lying on our sun-soaked dock staring at my rippled reflection, wondering who I would become. As the years rolled away the wrap, things I never dreamt possible emerged: graduation from Acadia U.; careers in social work, phys.ed. teaching, writing, speaking, graphic design, magazine editing and publishing; the birth of my two beautiful sons; two bestselling books; seven years as a TV host on "Nitelite," "Raiders of the Lost" and "Total Fitness;" a stint in provincial politics; the delight of becoming a grandmother; 38 years of marriage – and then a new season in life, following the horror of discovering my first husband to be a child molester. Following my divorce, I wrote extensively to help people protect their families from child sexual abuse and designed two legacy journals for seniors to record their wisdom for oncoming generations. In 2012, Face Cozy International was born to help people with sleep apnea. Following 7 years on my own, Morgan Sharp emerged as God's answer to many prayers. I've come full circle, once again by the water. I'm still the child on the dock, but the ripples have gone and I see more clearly now.