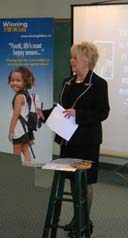 Speaking

Diane is well-known from her appearances on "100 Huntley Street," years of hosting "Nite Lite," "Raiders of the Lost" and "Total Fitness: Body, Mind and Spirit" as well as her political involvement with family issues, her numerous books on various aspects of Christian living and the protection of children; her My Life Legacy journals and work with ethical wills; her years of volunteering with the elderly; personal experience in putting the pieces back together when life falls apart – and helping people to realize their dreams of being authors. As CEO of LifeNet Ministries Inc., she endeavors to communicate hope to today's struggling teens.
If you wish to have Diane speak to your group, please call 905-852-6349 to book your date.
Building Your Legacy – Writing Your Ethical Will – Volunteering with the Elderly
Diane's legacy workbook can be a wonderful tool for visiting with the elderly, mentoring young people and providing families with eduring portraits of their loved ones.
Predator-Proof Your Family
With child-molestation becoming epidemic in our society, Diane shares solutions and information from a wealth of research, personal experience and her work with Plan to Protect.
Picking Up the Pieces When Your World Falls Apart
In this age of uncertainty, one never knows when the structures of our lives are going to shift or shatter. Diane has been there and has a treasure trove of inspiration and positive experience to share.
Releasing Your Inner Book – Be an Author!
As the author and co-author of over 30 books and booklets and the owner of byDesign Media, Diane has a wealth of information to share with those interested in sharing their stories or documenting their knowledge in print.
Preventing Teen Suicide
As the CEO of LifeNet Ministries Inc, Diane shares on how to communicate hope with today's struggling teens.